For the 9th post of our Producers Series, we spoke to Lisa Schimnowsky, one of the three founders/owners of L8 Life, a company based in Los Angeles which produces four flavored CBD and fruit infused sparkling beverages. Given their positive experiences using CBD, the three partners were inspired to create a drink that would fit into the consumer's daily routine, taste great, and "symbolize a moment to look forward to everyday." In our interview, Schimowsky explains the significance of the company's name, how they chose the four flavor profiles, why they chose SōRSE as their emulsion provider, and their plans for 2023 and beyond!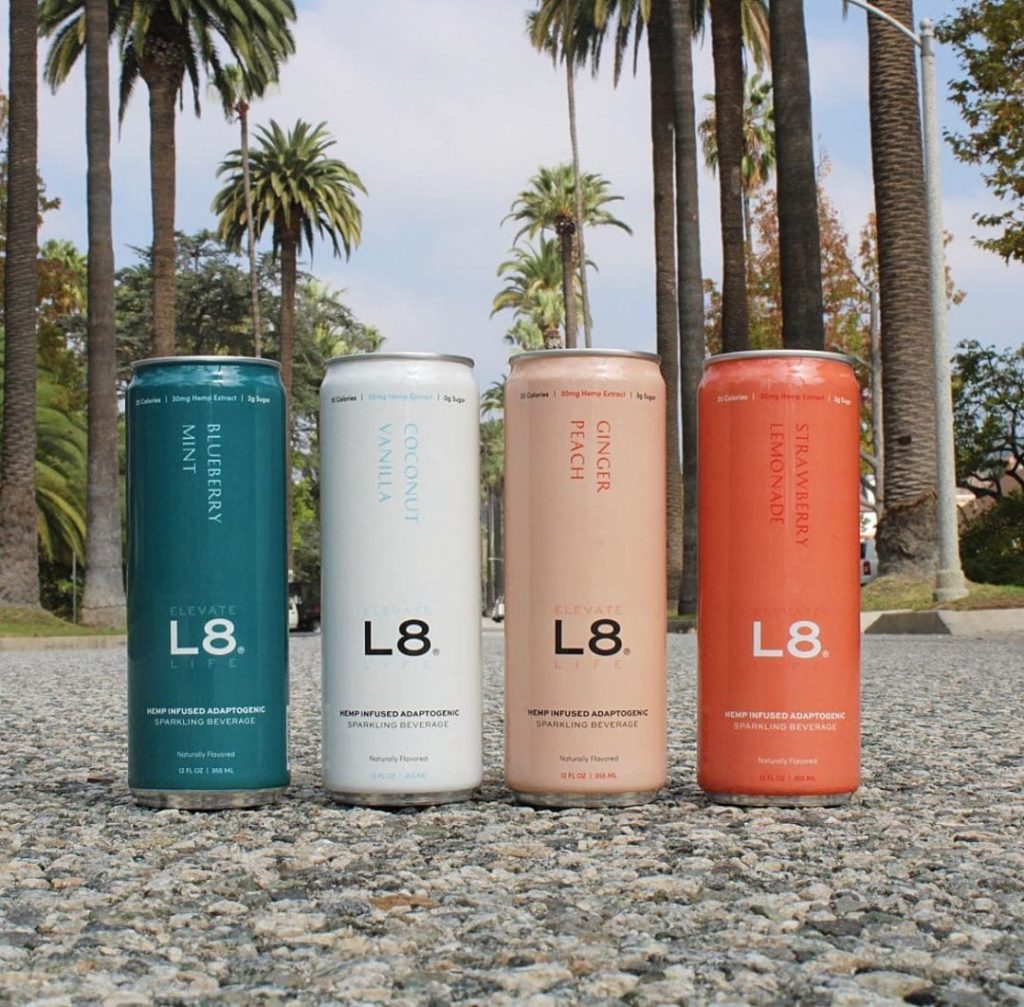 Can you start by sharing your background with us, and what inspired you to create L8?
A few years ago, I was dealing with very bad back issues that I had been experiencing for quite a while. I have a herniated disc in my lower back from a bad soccer injury, and as a result, I couldn't walk for nearly three months because of sciatica running down my legs. To manage the pain, I was prescribed strong medication, as most people are who sustain an injury like that, and I did physical therapy which really helped. I was lucky in that I didn't have to have back surgery. I slowly weened myself off the medications, but I still struggled with pain.
This all occurred when CBD was just coming onto the marketplace, and I was curious about what the cannabinoid could do for pain management. I started doing more research and trying different products and found that it really helped. One of my business partners uses CBD to manage insomnia, and the other uses it to manage anxiety. All three of us did a deep dive into the research, from white papers to scientific studies to case studies, and saw how powerful this cannabinoid was.
From there, we decided to make something that we would enjoy every day, at any time of day, that would be impactful to the consumer. L8 was born out of us trying CBD ourselves and experiencing its benefits.
What is the significance of your company's name? 
L8 represents eight "L" words that we have identified as the core of our brand. Each of these words means something specific to us. These are the pillars of what we think are important aspects of our lives – and they can be interpreted many different ways based on a person's experiences.  We want the consumer to be able to define each word for themselves. There's also a play on words with our name, as L8 is very close to "elevate" and "elated."
Who do you envision the L8 consumer to be? What benefits do you hope they gain from drinking your beverages?
We found that there was a gap in the market in terms of products that would appeal to women specifically. We wanted to make a product that was approachable for women who might not know a lot about CBD or cannabis but who were interested in trying it to see how they might benefit. Today the consumers are engaging with brands at a higher level and educating themselves on what the added benefits of cannabinoids and adaptogens. We want people to come with us on the journey to figure out what works best for them.
How did you choose your four flavor profiles? 
We did a lot of market research and a lot of taste-testing of benchmark samples with our formulation house as well as sampling other products on the market. One of the flavors I have always loved is vanilla, which is a popular, well-known flavor in consumer-packaged goods. When we were formulating, we wanted to find the perfect match for vanilla, and it turned out to be coconut. That combination is definitely my favorite, and it was well received when we were in New York a few weeks ago because it delivers a tropical, relaxed vibe. All four are solid flavor profiles that our customers seem to enjoy – and we have other new products in the pipeline that we think will resonate with consumers.
How do you educate your consumers on CBD?
My partners and I talk a lot about what we have personally experienced using CBD, and I think those stories are impactful because we have personal results that mean something to us. Of course, it's subjective, because people have different experiences with CBD. There are a lot of great resources out there for learning more about the plant and its cannabinoids, including the educational materials the SōRSE team has provided us. We value having a transparent partner and supplier that is committed to helping us educate the consumer.  
Which of your company's core values resonates most with you and why?
When the three founders (including myself) sat down to talk about our core values, it was a really interesting exercise, because we are so different! Each of us has a value that resonates most strongly. For me, the ability to press pause, reset, step back, and make time to take care of myself and find my center is extremely important. 
How did you find SōRSE, and why did you choose SōRSE's emulsion solutions over other providers?  
One of SōRSE's Business Development Directors connected with us through LinkedIn. At the time we were using an isolate powder from another supplier, and we found out that the batches were inconsistent and unstable. We shifted gears, changed our production location, then started testing SōRSE's products, which checked all the boxes for us – from being tasteless and odorless to all the testing, lab results, and documentation the company provides. Plus, it tasted great in our formulation!  Everyone on the SōRSE team has been a please to work with. These are just some of the reasons we chose to put the "Powered by SōRSE" moniker on our cans!  
Any big plans for L8 in the coming months?
We will be adding three more beverage SKUs to the line in the coming months with some cool hydration features, plus the CBD, in them. In Spring of 2023 we are adding another four SKUs. In the Fall of 2023, we'll be releasing a product that will bring coziness and warmth to our customers. We're really excited about the products that we'll be launching that blend the lines between beverage, supplement, and beauty. We're also exploring the idea of beverage shots for 2025.  
What challenges have you faced thus far? 
I think most CBD-infused beverage producers are challenged by dosing because of scalping – making sure that the amount of CBD in the can matches what is on the label. It's a tough process to make sure the dosing levels are correct. Getting the effervescence and carbonation level where you want it is also a process!  
All of the changes we have gone through in the past few years – renaming our brand to switching our supplier and co-packer — were amazing transitions for us. Our old brand name didn't allow us to innovate in the way we wanted to – so the transition to L8 was an easy one. There are so many little things you learn along the way as a startup, like managing UPC issues.
What excites you most about being in this industry? What is your prediction for the cannabis-infused product space?
I think the industry will hit the sales projections research groups are expecting once CBD is regulated by the FDA. The industry is healthy and sustainable despite remaining in this grey zone, but people are becoming more aware what else is in the product and the value add. We're offering beverages not just with CBD, but Reishi mushroom, which is a powerhouse adaptogen, which is what consumers are more interested in. What excites me about the industry is that we are offering natural alternatives for people's wellbeing. All three of us at L8 are big advocates for natural solutions to health issues.  
X
Let's Chat
Want to evaluate our emulsions? We'd love to learn more about your business and work to create a custom solution.

Tell us a little about yourself and we'll be in touch shortly.
X
Let's Chat
Want to evaluate our emulsions? We'd love to learn more about your business and work to create a custom solution.

Tell us a little about yourself and we'll be in touch shortly.
X
Let's Chat
Want to evaluate our emulsions? We'd love to learn more about your business and work to create a custom solution.

Tell us a little about yourself and we'll be in touch shortly.