Trends in RTD Cannabis Beverages: What to Know
A lot has changed in the cannabis marketplace over the last ten years, 18 states have legalized THC for recreational use and even more for medicinal use. There has also been more consumer interest in CBD, the non-psychoactive sibling of THC, since  the passing of the 2018 Farm Bill legalizing hemp production. In 2011, most cannabis users would likely have never imagined that they would someday be able to buy infused beverages, let alone have as many options to choose from as they do today.  
The infused beverage market continues to grow as consumers look for other ways to consume cannabinoids beyond inhalation, tinctures, tablets, soft gels, and gummies. Here's what you need to know about the current trends in the RTD (Ready to Drink) Cannabis beverage marketplace.   
Market Data
In March of 2021, MJ Biz Daily reported that beverage sales rose from $67.8M in 2019 to $95.2M in 2020. According to Seattle based cannabis research firm, Headset, sales of cannabis infused beverages increased 40.3% in 2020 across all states where cannabis is recreationally legal. In Headset's March report, "Cannabis Beverages: Analyzing Category & Brand Performance," they reported that women tend to purchase infused beverages more often than men do, particularly the Baby Boomers group, as shown in the graph below.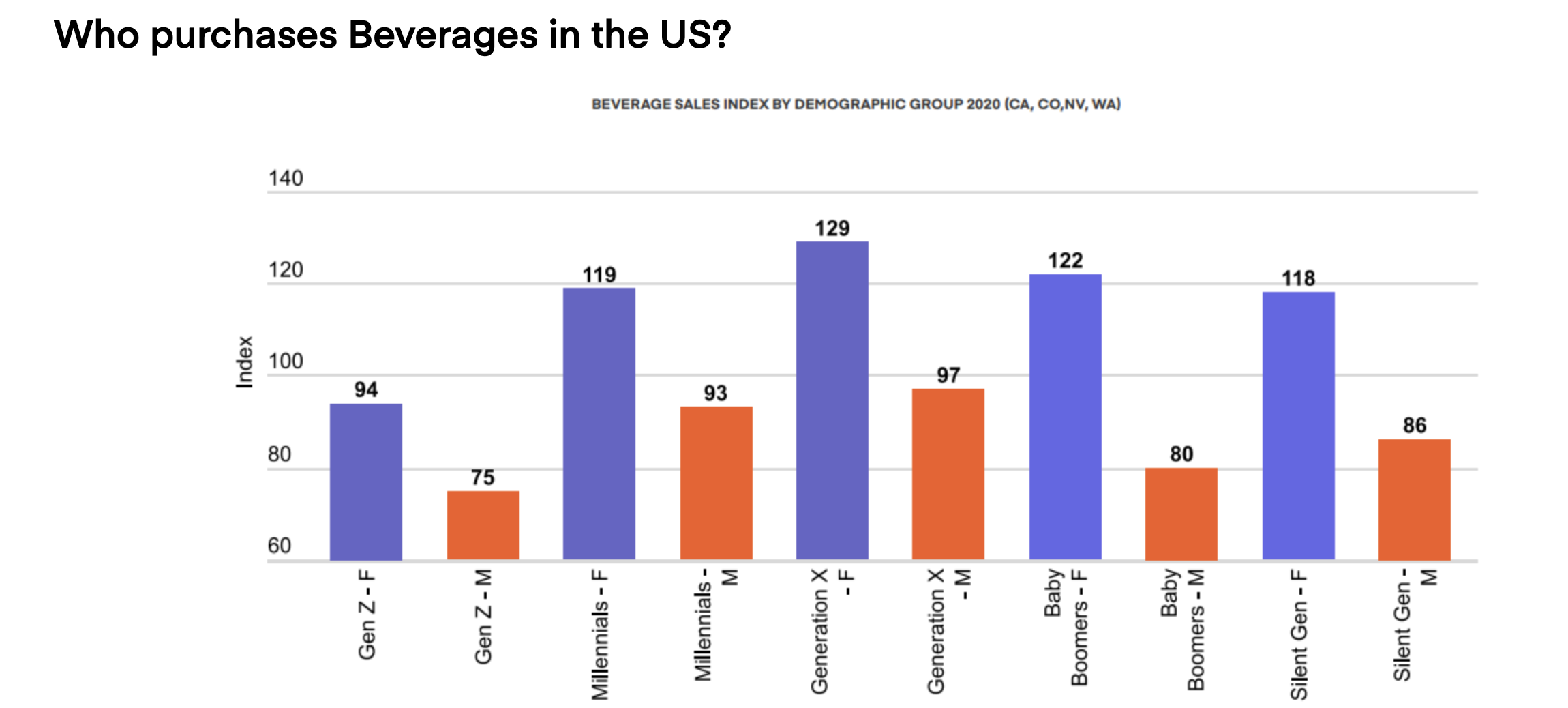 They also found that beverages dosed at 0-5 mg THC and 100 mg THC have risen in popularity with consumers in 2020 and the first half of 2021. This illustrates that the market is moving towards offering two distinct product types – one with the maximum amount of THC per dose which would appeal to a regular cannabis user, the other with micro dosed servings that are more approachable for consumers who are "cannacurious" and looking for an alternative to alcohol.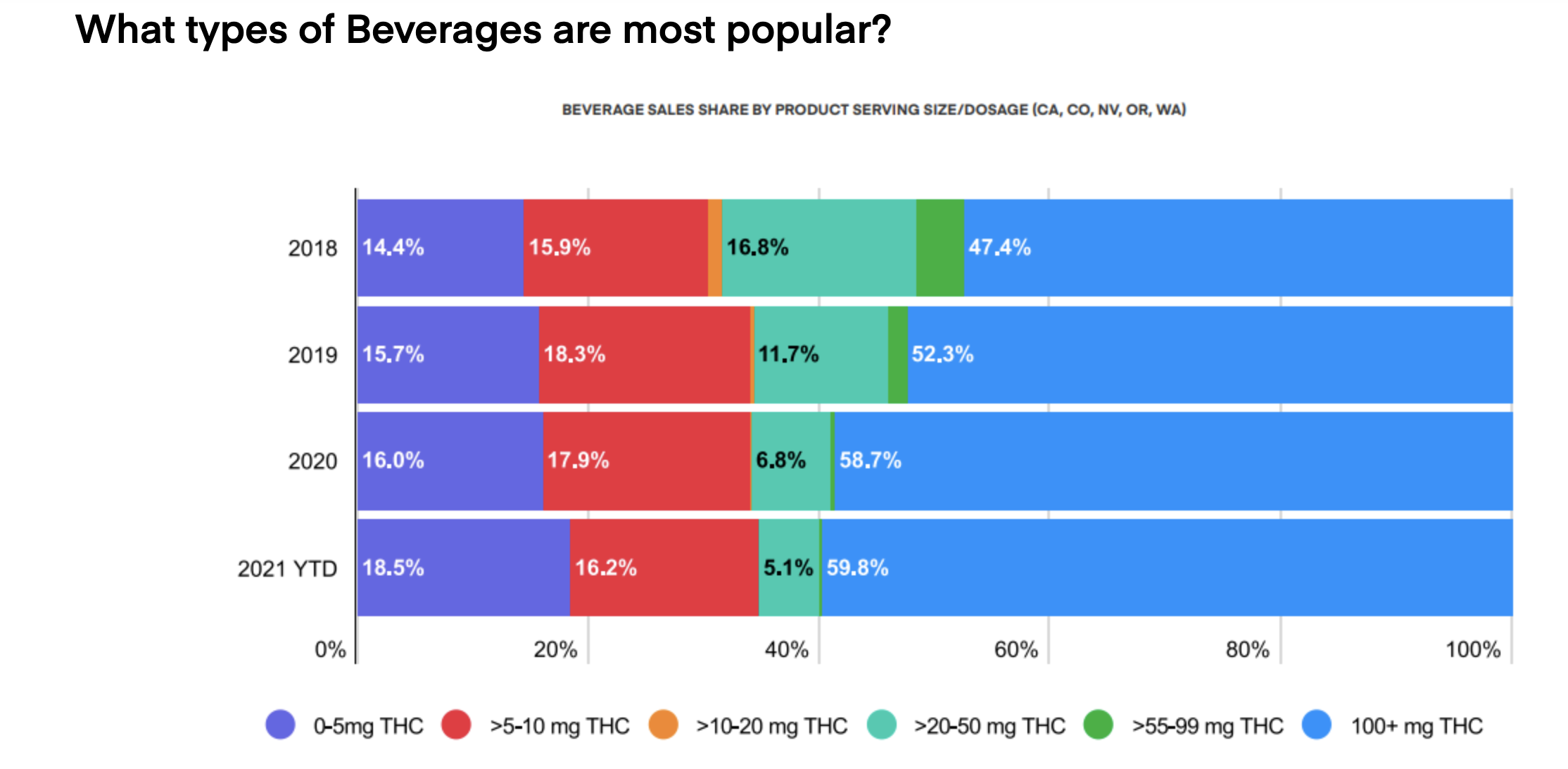 US cannabis beverage sales are expected to reach $421 million this year, according to cannabis market research firm, Brightfield Group.  Bethany Gomez, Brightfield's Managing Director, thinks that the cannabis beverage sector will clear $1B by 2025 as this sector continues to gain traction with consumers. How will the sector continue to gain that traction? By offering safe, efficacious, and great-tasting products for the consumer.  
Trends in Cannabis-Infused Beverages
Trend #1: Hydrating with Infused Waters
Drinking water is a critical part of healthy daily routine, but not everyone loves the taste of plain water. Because of this, there are a plethora of flavored waters, sparkling waters, and seltzers on the market, many infused with CBD, THC, and other functional ingredients. Consuming a CBD water makes staying hydrated easy, and the beverage platform provides an effective delivery mechanism for cannabinoids. A growing category in this space are infused waters for pre and post workouts when hydration is key for performance and recovery.   
Trend #2: More Functional, High-Quality Ingredients; Less Sugar!
Consumers are highly focused on their health and wellness and doing their homework on ingredients that boost immunity, improve gut health, and ease stress and anxiety. As a result of this, product developers are creating infused beverages with cannabinoids paired with other functional, high-quality ingredients like Ginger, Elderberry, Ashwaganda, Rosemary, Cinnamon, Ginseng, and Turmeric, to name a few. Consumers are also more aware of their sugar intake and are looking for beverages with no added sugar or that use natural flavor enhancers like berries and other fruits for a hint of sweetness. 
Trend #3: Caffeine, Meet CBD
While the combination of caffeine and CBD may seem counterintuitive, the pairing in a beverage can deliver a pick-me-up for the body and clarity for the mind. Contrary to popular belief, CBD does not make you drowsy, but it can have a calming, relaxing effect. As a result, there are more cannabinoid-infused cold brew coffees and iced green and black teas on the market, providing the consumer with a boost of energy that they might need to carry them through the afternoon.  
Trend #4: Beyond Beer, Beyond Spirits: The Rise of Infused Beverages
While many consumers enjoy a great beer, wine, or cocktail, they don't always enjoy how they feel the next day. For many people, the older they get, the harder it is for the body to process alcohol, not to mention the calories that pile up from high levels of sugar. As a result, consumers are looking for alternatives to alcohol like THC infused beverages that can provide a similar buzz without the hangover or beer belly. Given the array of ingredients at their disposal, product developers can create mocktails, seltzers, near-beers, and aperitifs that echo the products consumers are familiar with, replacing alcohol with cannabinoids.  
What to Know About Quality RTD Cannabis Drinks
With the popularity of RTD infused beverages on the rise and with so many options to choose from, it's important for consumers to know what to look for when shopping for beverages, because not all infused beverages are created equal.  
Look for beverages that have been tested for quality and safety throughout the production process and include Certificates of Analysis (COA). 

 

The COA is a lab report verifying the chemical makeup of the product including the amount of cannabinoids in the product. 

 
Take a close look at product labels which display dosing information, milligrams of CBD or THC, serving size/servings per container, cannabinoid oil source, and expiration date.

 

Be aware of how cannabinoids are infused into the product and seek out products that feature a water-soluble infusion method like SōRSE. 

 

Cannabinoids are oil based, and oil and water don't play well together. 

 

Emulsion technology enables the cannabinoids to be added to water in a stable, evenly dispersed manner so that they won't separate from the other ingredients by rising to the top or settling on the bottom. 

 

Beverages featuring SōRSE emulsion deliver the amount of cannabinoids listed on the label and consumers feel the effects within 10 to 20 minutes. 
If a beverage doesn't taste good, the consumer won't drink it, let alone repurchase it. SōRSE provides the opportunity for the cannabinoid emulsions are customizable. For product developers, this means SoRSE can match the flavor profiles of their beverages, giving them a range of options, from no cannabis taste or smell to strategically infused sensory notes to complement the other ingredients and enhance the overall product.  
SōRSE is currently powering over 60 market-leading products, including RTD beverages. Products that carry the "Powered by SōRSE" moniker are safe, consistent, accurately dosed, and great-tasting, providing everything today's consumer is looking for in their RTD infused beverages. If you are a product developer looking to capitalize on the growth we are witnessing in the cannabis beverage space, book a call with our team today to learn more about our water-soluble emulsions and the services we provide.  
X
Let's Chat
Want to evaluate our emulsions? We'd love to learn more about your business and work to create a custom solution.

Tell us a little about yourself and we'll be in touch shortly.
X
Let's Chat
Want to evaluate our emulsions? We'd love to learn more about your business and work to create a custom solution.

Tell us a little about yourself and we'll be in touch shortly.
X
Let's Chat
Want to evaluate our emulsions? We'd love to learn more about your business and work to create a custom solution.

Tell us a little about yourself and we'll be in touch shortly.