There are numerous CBD-infused products on the market today, from tinctures to tablets, from beverages to edibles. Many of these items contain water-soluble CBD — but what does that mean for a product producer trying to decide how to integrate CBD into a sparkling water or a gummy, or to the consumer trying to decide what product to buy? How is water-soluble CBD different from oil? Is it easier to produce a product with water-soluble? Does the body absorb water-soluble cannabinoids differently than oils?  
Consumers are curious about CBD – how it's extracted from the plant, how it's integrated into products, and what its potential benefits are. Here we will explain what water-soluble CBD is — how it is made, its benefits, the formats that it comes in, and what to look for when evaluating water-soluble products.    
What is Water-Soluble CBD? 
Simply put, water-soluble CBD is CBD that can be dispersed in water and other liquids. When extracted from the hemp or cannabis plant, CBD and other cannabinoids are oils, which can be challenging to work with in terms of the sensory profile, dosage control, reliable and repeatable onset and duration, manufacturing, and labelling.  
Making CBD water-soluble by emulsifying the cannabinoid gives infused food and beverage producers the ability to create products that taste great, are accurately dosed, and that offer predictable, repeatable experiences for the consumer. 
Water-Soluble CBD Benefits
To understand the benefits water-soluble CBD in the form of an emulsion delivers, it's important to explain how the body processes oil extracts first.  When an oil-based cannabinoid is ingested, its bioavailability is limited because the oil is hydrophobic, meaning that it is incompatible with or insoluble in water.  This means that the human body, which is over 60% water, has difficulty absorbing and processing the oil.  
Another factor is that first pass metabolism also inhibits bioavailability. When CBD oils are ingested orally, the GI tract absorbs them and delivers them to the liver via the portal vein. The liver metabolizes them, and from there, a limited amount moves to the circulatory system. The end result is that cannabinoids in oil form are not readily absorbed by the body, and the onset can take a few hours.    
In contrast, the body is more able to process and absorb water-soluble CBD because the oil, which is embedded in the emulsion, is recognized by the body as hydrophilic, or water-friendly. Emulsion technology breaks the oil down into small particle sizes for even dispersion and stability, which allows for greater absorption in the intestinal tract. This means that consumers experience the effects of water-soluble CBD between 10 and 20 minutes after ingestion.  
How is Water-Soluble CBD Made?
Method #1: Physical Dispersion
There are a few ways CBD can be made water-soluble; the first is through physical dispersion – think, shaking your bottle of oil and vinegar to create a salad dressing! While this method is easy to prepare and execute with low capital cost, the resulting material is prone to settling, clumping, and layering; it also does not protect the CBD oil from oxidation. In terms of the sensory profile, the weedy/grassy flavors and aroma persist.  
Method #2: Ultrasonic Dispersions
The second is through ultrasonic dispersions, where very small droplets are produced through cavitation generated by propagating a sonic wave through the product. This capital-intensive method requires the use of surfactants and brings with it some challenges when it comes to scale up and labeling of organic or all natural products.   
Method #3: Co-solvents
The third method involves the use of co-solvents, where the CBD oil is solvated in water-miscible solvents. While this method does provide decent solubility and uniformity, there are potential label claim concerns because of the solvents, the flavor and aroma persist, and the formula is prone to scalping – where the CBD adheres to the lining of the can.  
Method #4: Water-Soluble Emulsions
The fourth method is through creating an emulsion. The act of emulsification reduces a cannabinoid's oils, or any oil for that matter, to very small, protected droplets. An emulsifier is brought into the equation so that the oil droplets will remain dispersed as individual droplets as opposed to grouping back together and separating from the water again. With this process, the new liquid is an oil and water combination that plays nicely together. In fact, when done correctly, the oil droplets prefer to be uniformly and equally distributed throughout the surrounding liquid. Once an emulsion has been made, analytic equipment is used to test particle size, stability, and homogeneity – all important elements of a high–quality emulsion.  
If the cannabinoids were left in their-oil based state and a beverage product developer tried to add that oil to water, the oil would rise to the top. Not only would the first sip be a less than appealing one, but the cannabinoids would not be evenly dispersed throughout the beverage, which is an important factor to consider for a safe, consistent experience.   
An easy way to think about how emulsions behave is to imagine dropping food coloring into a glass of water. The color will eventually disperse evenly and completely transform the color of the water. (See video below) 
A successful emulsion will have consistent particle size, 12+ months' stability and homogeneity, balanced density, and accurate dosing throughout the formula. A broken emulsion will show signs of creaming (oil rising to the top), ringing (oil settling around the edges), sedimentation (settling at the bottom), and flocculation (clumping).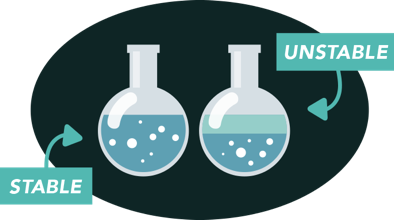 Forms of Water-Soluble CBD
Water-soluble CBD typically comes in two forms: liquid and powder.  
Liquid is ideal for ready-to-drink beverages and personal care items. 

 

Standard Powder is ideal for baked goods and other food items. 

 
Agglomerated Powder, which SōRSE has offered since 2019, allows for rapid hydration when dropped into liquid. That makes it the best solution for ready-to-make beverages like stick-packs.  
How to Use Water-Soluble CBD
There are a variety of water-soluble CBD products on the market, and many consumers wonder which is the best format for taking CBD. Some formulations such as drops or tinctures can be taken under the tongue (sublingually). This rate of absorption is relatively fast and efficient, because the tissue in the mouth and under the tongue is highly vascular – meaning the tissue contains blood cells which will absorb the CBD.  
Many consumers ingest water-soluble CBD orally, via products like beverages, edibles, capsules, tablets, or powders. When choosing between an edible like a brownie and a beverage, it's important to know that the onset times can be very different given the amount of fat in the edible. As mentioned earlier, it takes longer for the body to process fat, which means that it may take longer for the consumer to feel the CBD's effects after eating the brownie than they would if they had consumed a beverage.  
What to Look for in Water-Soluble CBD
A high-quality water-soluble CBD will have the following qualities that will benefit the product producer and the consumer.  
Safe ingredients: The emulsion is made with safe ingredients commonly found in the food and beverage industry.  

 

Homogeneity: The emulsion evenly disperses when added to the product formula. 

 

Stability: The emulsion remains shelf stable for 12 months. 

Accurate dosing: Homogeneity and stability allows for near-perfect dosing and accurate label claims
Improved sensory: The emulsion can make an ingredient like CBD that has a bitter or disagreeable sensory effect more palatable. It can also allow a product producer to control the flavor profile.
Quality assurance: The producer of the water-soluble CBD should have established quality and safety standards, internal and third party testing, and documentation to verify quality and safety. 

 
If you are a product developer, selecting the water-soluble CBD to infuse your product with will be one of the most important decisions you make during formulation because it impacts the entire product development process as well as the consumer's experience with your product. Taste, stability, product consistency, dosing, and scalability are all incredibly important attributes in any emulsion. Throughout this evaluation process, it's important to remember that you are not only looking at the quality of the emulsion; you are also choosing a strategic partner that can support you from concept to commercialization.  
The team at SōRSE not only offers liquid and powder emulsions designed for easy integration into food, beverages, and personal care products, but also guidance through every stage of product development. If you are looking for a high-quality CBD emulsion powered by a team of experienced food scientists and product developers to get your product to market fast, now is the time to come to the SōRSE. 
X
Let's Chat
Want to evaluate our emulsions? We'd love to learn more about your business and work to create a custom solution.

Tell us a little about yourself and we'll be in touch shortly.
X
Let's Chat
Want to evaluate our emulsions? We'd love to learn more about your business and work to create a custom solution.

Tell us a little about yourself and we'll be in touch shortly.
X
Let's Chat
Want to evaluate our emulsions? We'd love to learn more about your business and work to create a custom solution.

Tell us a little about yourself and we'll be in touch shortly.