Seltzers. Tonics. Mocktails. Sodas. Juices. Lemonades. Colas. NA beer. Tea. Coffee.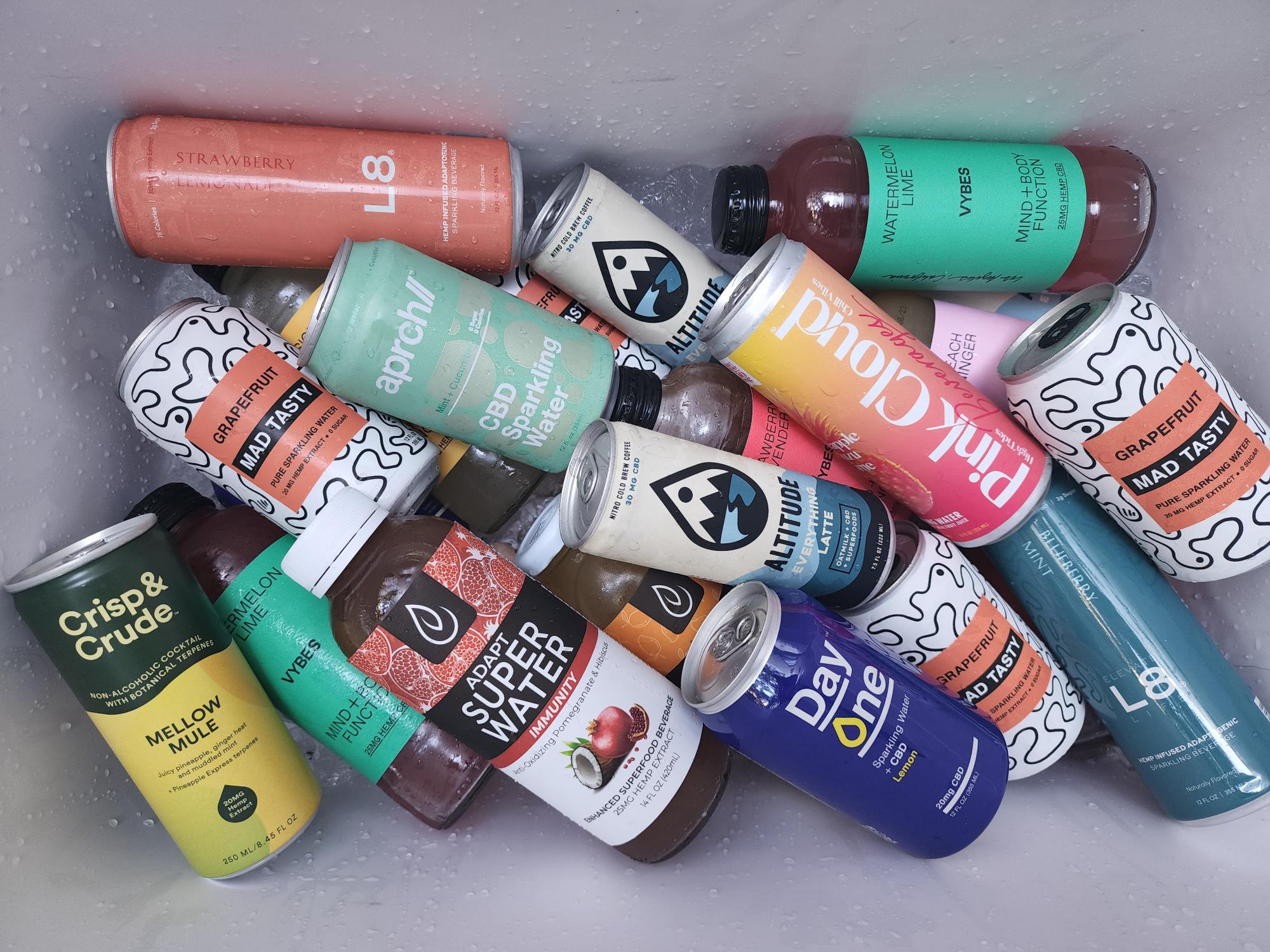 It's hard to believe, but today's cannabis consumer can purchase the beverages above in states where cannabis is medically and/or recreationally legal. The sector continues to grow year over year with new products coming to market every week. In their recent report, "Cannabis Beverages: Examining category performance and trends," Headset Data reported that "market share of beverages has increased over 40% in the US and Canada since the beginning of 2021." How will that change in 2023, and what new trends will emerge? Here are some of our predictions for the industry in the coming year.
Dosing: Low or High, With Little In Between
Most beverages on the market fall into two categories – low dose and high dose. Typically, low dose beverages contain 2 to 10mg THC, whereas high dose beverages contain 100mg, the legal limit for a single unit of product in most states.  
According to Headset Data, in 2022, "The most popular beverage dosage in the US has been 10mg, capturing 39% of the market. High dose beverages over 10mg are very popular as well. High dose products account for over one-third of all beverage sales, with 100mg products contributing 22% of total sales through the first ten months of 2022. Low dose Beverages also have their place in the US market. Beverages with less than 6mg of THC account for over 22% of total sales in the US." 
In 2022, there were not a lot of drinks in the 15-30mg range, and even fewer with a 50mg dose. Consumers new to cannabis beverages will likely gravitate to low dose products, where cannabis veterans may look to higher dose beverages to meet their needs.
Why aren't brands creating products with 50mgs? Most likely because that amount of THC would drive up the price point of the product – and ultimately, the consumer wants to get the most bang for their buck.  In a time when consumers, and brands, are mindful of spending, it makes more sense to create a product that can either be consumed in one sitting or dosed over time. The middle ground dosing doesn't lend itself well to either scenario.
Format: Hit Me with Your Best Shot
In 2022, we saw more beverage producers bringing shots to the marketplace; water-soluble tinctures were also a popular format. In 2023, we'll see producers expanding their product portfolios with shots, tablets, and stick packs for RTM drinks. These smaller formats are great for consumers who are constantly on the move. They are also cheaper for producers to ship and take up less space on a dispensary shelf. In a dispensary setting, refrigerators are space hogs – so offering smaller formats or formats that don't need to be refrigerated makes sense for brands trying to create a footprint in the beverage sector.
Product Segments: Variety is the Spice of Life
Consumers in the United States like variety and the ability to choose their favorite type of beverages. That's why there are so many types of drinks on the market – from seltzers and sparkling waters to lemonades, fruit-forward drinks, and iced teas. Drops, syrups, powder mixes, and elixirs are also popular given their ease of use and flavor options. We're also seeing more aperitifs and wine-like beverages on the shelves as well.
While most consumers tend to repurchase their favorite brands and types of beverages, inflation may play a role in consumer purchases in 2023, as people may be more mindful of the price point of their favorite beverages and try something new that offers more bang for the buck. Headset reports that since January 2021, "Beverage brands grew 65% in the US… This flood of new brands and products into the market could be exceeding demand and contributing to price compression within the category." 
Flavor Profiles: When Life Gives You Lemons (and Oranges and Limes and Yuzu)
In terms of flavor profiles, citrus continues to be a favorite among beverage producers given how well it pairs with other fruit flavors and herbs. Yuzu, a citrus originally from China whose flavor is like a cross between a lemon, lime and grapefruit, has become a popular flavor with beverage producers and consumers alike. With the rise of infused mocktails on the market, grapefruit proves to be a popular flavor too, as it is a stable ingredient in a Paloma or Greyhound. 
Berry varieties like blackberry and strawberry and tropical flavors like Pineapple and Passion Fruit will also be featured in beverages in 2023. Berry flavors evoke feelings of nostalgia and summertime, while tropical flavors evoke feelings of warmth and trips to the ocean.
Floral and herbal beverages are also on the rise, particularly in the form of teas, which highlights the fact that the cannabis beverage space is diversifying in terms of flavor and taste.
Added Ingredients: Majors, Meet Minors
In 2022, minor cannabinoids like CBG, CBN and CBC were featured more prominently in beverages, and interest in some of the rarer minor cannabinoids like THCv were growing. In 2023, we expect to see the majors paired with the minors, with developers focusing on the specific benefits associated with the minors. Given the fact that the cost of some minors is quite high, producers will need to consider the value the minor cannabinoid brings to the product, and the consumer. 
Terpenes, the oils produced by the trichomes of the cannabis plant, are what give cannabis its aroma and flavor and increase the cannabinoids' efficacy. For beverage producers working with a water-soluble emulsion, the emulsion technology allows a producer to play up the positive notes the terpenes impart and cut down on the cannabis aroma and taste. In 2023, product producers may bump up their product's terpene profile, given their therapeutic effects when interacting with cannabinoids (known as the Entourage Effect).
Producers will also continue to explore adding functional ingredients and adaptogens to their infused beverages like cordyceps, ginseng, and turmeric for their added health benefits.
Other Trends: Calorie Count and Caffeine
In today's marketplace, consumers are conscientious about the amount of sugar and the number of calories they consume, so we expect to see infused beverages like sparkling waters and seltzers continue to be popular, with low to no sugar and low-calorie counts. 
 Another interesting trend to watch is the rise of caffeinated beverages. Infused teas and coffees have become quite popular in the last two years, as have bottled iced teas and iced tea/lemonade combinations (aka the Arnold Palmer). That said, caffeine goes beyond traditional black coffee and black tea-based beverages; caffeine is also derived from green coffee beans, green tea extract and other plant material. The key for product developers is to choose the right amount of caffeine to complement the cannabis, as both ingredients can elevate one's heart rate. 
New Markets: Great Potential for Reaching New Consumers
While California, Colorado, Washington and Oregon are states with fairly mature beverage markets that continue to grow, there are a number of states with new consumers where beverage brands are looking to expand their national reach. Now that recreational adult use is legal in New Jersey, New York, Missouri, and Maryland, beverage brands will look at ways to establish themselves in these marketplaces. While recreational adult use has been legal in Michigan and Illinois for almost three years, there is still room for growth in the beverage sector in both states. 
With the footprint SōRSE has established through our mobile production program, we will continue to refer brands to our partners in different areas to help them achieve their expansion goals.
Closing Thoughts
As the cannabis beverage market continues to grow from year to year, product producers need to continue to watch consumer trends as they build new products (or revamp old ones) for 2023. As consumers continue to cut back on alcohol consumption, cannabis infused beverages can be a great replacement for a cocktail or glass of wine, providing an elevated experience minus the hangover. For longtime cannabis consumers, an infused beverage is a viable alternative to smoking and inhalation. For new consumers and the canna-curious, beverages provide an easy entry point into consumption.
There's no doubt that this sector of the market will continue to grow, as product producers continue to innovate and develop beverages with the consumers' wants and needs in mind. At SōRSE, we look forward to whatever 2023 brings and working with new and existing beverage brands to create the safest, most reliable, best-tasting products on the market.  If you are looking for a water-soluble cannabinoid emulsion supplier for your infused product launching in 2023, come to the SōRSE and book a call with our team today.
X
Let's Chat
Want to evaluate our emulsions? We'd love to learn more about your business and work to create a custom solution.

Tell us a little about yourself and we'll be in touch shortly.
X
Let's Chat
Want to evaluate our emulsions? We'd love to learn more about your business and work to create a custom solution.

Tell us a little about yourself and we'll be in touch shortly.
X
Let's Chat
Want to evaluate our emulsions? We'd love to learn more about your business and work to create a custom solution.

Tell us a little about yourself and we'll be in touch shortly.